The SLI Engineering team has been regularly participating in what we call "Innovation Days". The majority of the engineering team is based in New Zealand, so we hold this day when it is a public holiday in the U.S., usually a Monday, to ensure we don't get behind on our client-facing work. It is a day where you can work on a project that is not related to your normal day-to-day work. This is a way for the engineers to stretch their creativity, and possibly dream up ideas that can eventually lead to real products. We did this for the first time last year and thoroughly enjoyed the opportunity and challenge to create a project in a single day.
While we spend Innovation Day brainstorming and creating, the day after Innovation Day is when the fun starts. Each engineer gets 5 minutes to present their findings and show the end result to the rest of the team.
Last year our Innovation Day was open to any kind of project, and the presentations revealed many creative ideas. One idea was a way to make our search software more efficient, another idea was to create a movie from the automated daily search screenshots, and a third idea was to create infinite scrolling on search pages.
We completed another Innovation Day on February 18th, however this time the challenge was themed. SLI's CTO, Wayne Munro, delivered us the challenge to create something from a real-time data system. This system is a stream of all the live searches on all clients.
The wackiest idea from this year was a live race track infographic game which showed cars accelerating around a track at differing speeds depending on their input. The input for each of the cars is searches per second, Rich Auto Complete calls per second and clicks per second.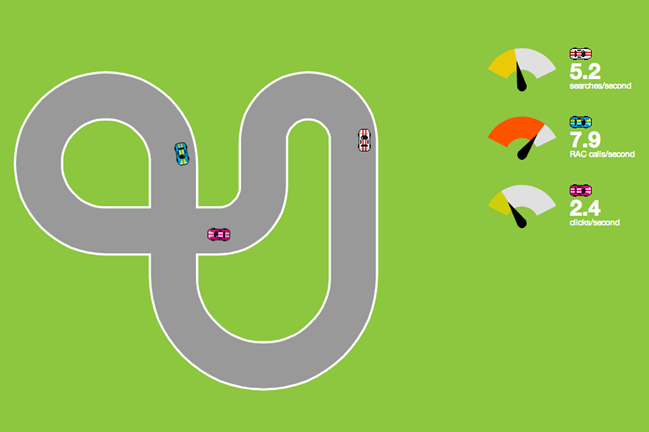 As you can imagine, there were a lot of cool and unique perspectives of what could be done with the data we had given to us. Now the Product Management team has the challenge of deciding which of the other ideas will be promoted into new dashboard widgets or front-end products – watch this blog for updates!
Andrew Grieve is a senior software developer in the engineering team at SLI Systems. He is happy to answer any technical questions you may have. Send questions to discovery@sli-systems.com.